Jean-Claude Graule, first deputy, reports :
When Odette was born in 1924, her sister Francine was already 4 years of age. Their father
Perrie Sabaté who had suffered a lot during the war remarked:
"At least with the girls, I can say that my children will not go to war…."
He could not have imagined what future was awaiting them!
Born in Joch in 1892, Pierre Sabaté enlisted in the army just before the 1914-1918 war was declared. Seriously injured, then prisoner of war, he returned to the village of his birth where he met Joséphine Acezat de Ria, then the teacher in Joch. They married. Joséphine left teaching. The couple settled in Ria, then Thuir and finally in Perpignan where they kept a small grocery store in the Vernet district. Unfortunately, never really getting over his injuries and his captivity,
Pierre Sabaté died in 1931.
Joséphine had difficulty asserting her rights as a war widow and those of the girls having lost their father. She got closer to the Communist Party and started to come to the aid of Spanish refugees. Odette will say later:
"It was from the winter of 1939 that everything changed. With the arrival in the region of thousands of Spanish. From this period on we were never alone in the house. There, we had continually welcomed Spaniards, escapees, responsible for missions to recreate links between them and Spain. It was there that the three of us started clandestine activities. We had established some principles : never try to know any names, the reason for their journey, never say anything to anyone, even to friends and family."
Francine works at the Préfecture, Odette at the post-office, in the telephone exchange. In October 1940, they had just started to live in Place del Puig. Their home becomes the base for a network helping Spanish refugees. They create false identity cards thanks to an official stamp stolen by Francine from the Préfecture. They help English pilots, shot down on French land who tried to reach the frontier to rejoin their units. They hide weapons and explosives in their storeroom.
On 15 June 1943, Joséphine was arrested at home, Odette at the Post Office. The following day, at the request of Joséphine, Odette is allowed to go to the house to look for some things, accompanied by a policeman.
"The Spanish had taught me one thing : if you are arrested, you must never think of escaping. On return I had to leave the keys at my aunt's house in Rue de l'Anguille. There was another exit at the back of the house. The policeman lived in the same road, he went in to his house to get a drink, watching me from the window…. When he returned I had escaped."
Joséphine and Francine will be deported to Ravensbrück where they were executed in spring 1945.
For her part, Odette goes back under cover, getting to Montpellier then Lyon and becomes an agent for the communist party's networks in the south of France. She was arrested on 16 August 1944 in Lyon by members of the Gestapo who torture her in vain. She is imprisoned in the fort at Montluc then is liberated by the FFI a few days later.
Having lost her mother and sister, Odette followed her comrades in the resistance and settled in
Paris. There she met a young German, studying nuclear physics, Pierre Radvanyi. The Radvanyi family had left Germany at the time of the Nazi regime coming to power. In 1949 their son Jean was born but, very quickly, the couple separated.
Having overcome very serious health problems, Odette takes up her activities at the heart of the Communist Party again. There she met her second husband, Pierre Loiseau. She stayed loyal to her communist ideals all her life. When they reach retirement age, the couple come to settle in Ria.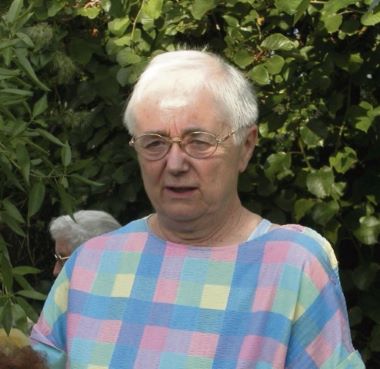 Odette had always maintained contact with her father's family. She came to Joch regularly to visit her uncle Jean Sabaté then, later, with her German cousins Gabrielle Sabaté-Graule and Georgette Tozeyre-Sabaté. We have a few in the village who still treasure memories of Francine and Odette as children coming to spend a few days in Joch in the summer with their grand-parents Joseph and Victoire Sabaté.
Odette Sabaté Loiseau passed away in Paris on 20 August 2020. She was cremated at the Père Lachaise cemetery on 27 August 2020. A tribute will be given to her in Ria during the autumn.
Sources:
Jean Radvanyi : Tribute to Odette Sabaté-Loiseau, her mother.
Marie-Louise Coudert : <<Elles, la résistance >> Ladies of the resistance.
<< Héroines d'hier et d'aujourd'hui : Rose Blanc et Francine Sabaté, deux jeunes Catalans dans la résistance >> Heroines of yesterday and today : Rose Blanc and Francine Sabaté, two young Catalan ladies in the resistance.
Jean-Claude Graule : personal recollections.
Traduction : McINTYRE Ewan, Joch