Accommodation : Find accommodation in Joch.
There are various options for accommodation in the community. Here are some. The directory will be updated in time, when asked.
Fleur du Conflent: guesthouse accommodation and house for rent
Beautiful bright house with 3 bedrooms accommodating up to 6/7 people, located in a quiet residential area. There is a choice of the rooms available separately, each one individually decorated in a traditional but bright manner.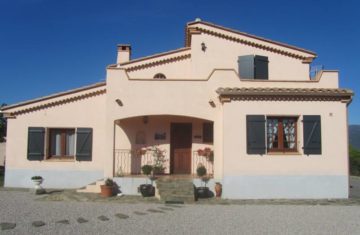 Contact: Paulette VERDIER, Route de Vinça, 66320, JOCH
mail : paulette.verdier123@orange.fr ;
Siteweb : https://fleurduconflent.com/fr
2. Joch, carrer del Moli: house for rent
The house can welcome 8 peopled. It comprises a large living area with a fully equipped kitchen, a dining area and a sitting room. It has 4 bedrooms and 2 bathrooms. Its also has a heated swimming pool. A terrace is next to the house and another eating area in the mature garden. Magnificent views.
Contact: Mrs Sabrina MULLET, 81 rue du pont de fer, 62190, LILLERS
Tel 06 13 55 39 11 ; Mail : sabrinadijon@orange.fr
Please contact the proprietors for up to date information on facilities and availability.
Eating, dining and shopping
The nearby town of Vinça offers a full range of eating and dining options. However, the village of Joch will soon have its own cafe-restaurant, which will open during 2021 after the conversion of the former village school.
The works started in January 2021 and are well advanced. Furniture has even been chosen! The website will closely follow the progress of the project.
Fresh, locally grown, fruit and vegetables are sold by a villager every Wednesday and Saturday at the entrance to the old village.
There is a daily bread delivery (Monday to Saturday) with fresh bread and croissants, arriving around 10am. There is no need to order in advance. Listen for the horn.
Vinça is only 2km away, and you can find all day to day essentials such as a supermarket, a baker, a bank, a post office and café bar.s There is also a swimming lake and a lakeside bar/café open 7 days and with occasional events such as live music.
Artisanal products in Joch
You can buy artisanal products such as honey, wine, sweets and jewellery direct from villagers.
Activities
We have intentionally chosen as an illustration "La Sardane", the emblematic dance of Catalonia. This tiled tableau, like various others in the village, was gifted by the group "Pa, vi I moltó" (bread, wine and mutton, a philosophy" a southern Catalonian association from the town of Calella which has kept a warm friendship with our village for almost 20 years.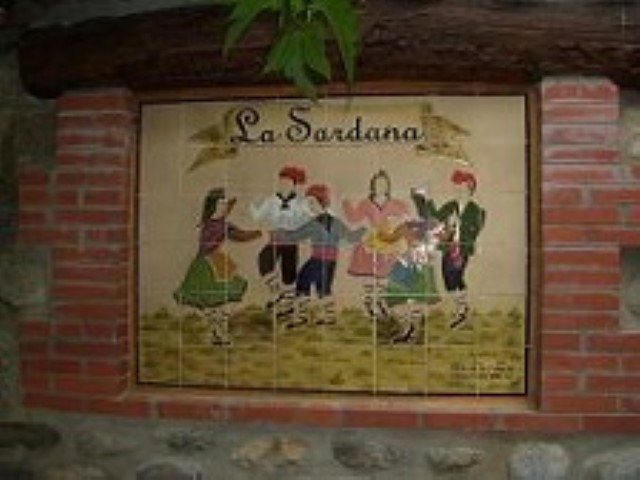 In respect, and to keep knowledge of this period alive, soon we will have a page dedicated to this.
Events committee
Activities in the village are mainly organised by they Events Committee. This voluntary association includes a team of 8 volunteers. It is their intention to amuse both adults and children from the village and the surroundings. Activities vary depending on the calendar.
Calendar
In these unsettled times, everyone will understand that we are unable to list a calendar of current events. We hope to be able to list events soon, as soon as the Events Committee can make arrangements.
Facilities
Play area for children
We have a play park for children under 12 at the entrance to the old part of the village, free to access but only when under adult supervision.
Library
Joch has a book exchange at the Placeta de la Sardane (in Carrer Major). It is free to access. You can take a book and keep it, or return it to the cabinet.
The idea is to have an exchange. If you have liked a book yo have read, and think others might, just leave it in the cabinet. In exchange you can take another from the cabinet.
Please think about the younger villagers. Books for children and teenagers are welcome.
Since the books are available to everyone, please do not leave books that are for a specialist audience.
Boules
In a shaded part of the village, next to the children's play park, is an area for people to practice their boules technique.
Village hall and garden with BBQ / grill
At the heart of the village, next to the church is the "Salle de Fêtes", our village hall. It was built in 1953. Behind this is a small shady garden which has been developed into a public space with a BBQ and grill area.
It is here that, traditionally, we have apéritifs after commemorations (such as on 8th May and Bastille day on 14th July) as well as the village festival on 11 November, at Christmas or the village children's carnival.
The village hall and the garden and BBQ/grill area can be used for events and family gatherings, but it is essential to book with the Mayor beforehand.
Walking and cycling
Finally, the village is a perfect place to start various walks to neighbouring villages such as Rigarda, or into the countryside. There are routes for road cycling and mountain bikes. Some suggestions for walks are available here, currently in French.
English traduction : Ewan MAC INTYRE